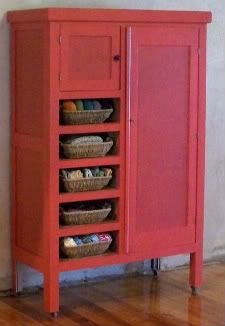 I needed more storage for my crafty stuff. Really, really bad. So I renovated an old armoire.
It was sitting in our garage when we moved in. I knew right away that it had potential, but I wasn't sure what I wanted to use it for.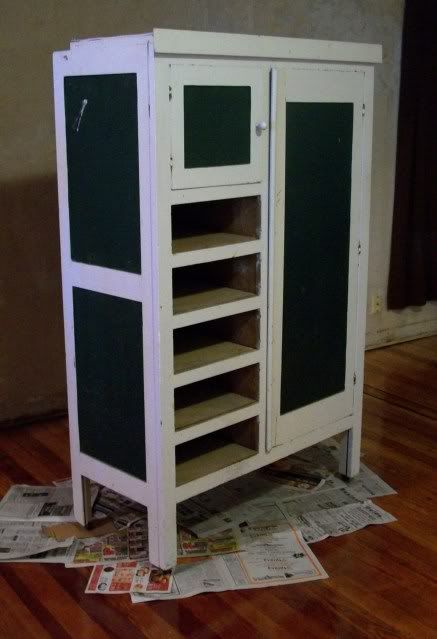 I wasn't sure what to do about the missing drawers. Part of the trim around the top was missing too. Not missing: wasp nests and spiders and bird poop. O.o
I cleaned it out really well and then I painted it with eleventy billion coats of Late Tomato red latex paint. I replaced all of the top trim, mitered corners and all. I plan to install a shelf or two on the right side to maximize storage capacity. I may install my mini ironing board so that it folds down from the inside of the door, but there are more urgent projects to work on first.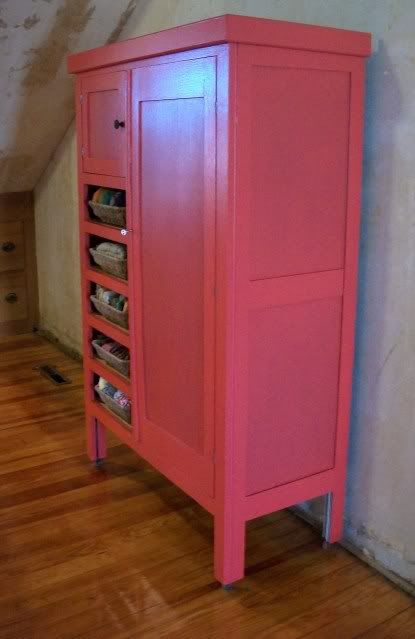 I had thought about priming the cabinet first, but I guessed that I might like the effect if the red was darker on the inner panels. And I do! It came out a lovely shade of purple and adds a lot of visual interest.
I attached a skeleton key to serve as a knob for the right side. The other knob was an extra from our kitchen cabinets. I gave the drawer bottoms a coat of PolyAcrylic so that I could be sure they are clean.
The baskets are two deep in there, so there are ten wee baskets total. I have baskets for supplies, yarn, fabric, and WIPs like this one. I'm hoping that having a work in progress or two visible will inspire me to finish one occasionally.
Thanks to amazing basket prices at Lucky Clover Trading Company, I only spent $40 on this project. The baskets were $3 a piece and I bought a quart of red paint. I haven't even filled all the baskets yet and my craft stuff is all put away. Hooray! 😀