I've begun working my way through Cal Patch's Design-It-Yourself Clothes: Patternmaking Simplified
, and I am going to chronicle my efforts here.
There are five projects in Design-It-Yourself Clothes, meant to be worked in order. If I get through the entire book, I'll have designed and drafted my own patterns for a skirt, tee shirt, button-up shirt, dress, and pants.
I've been pretty anti-pattern in the past, but the downsides of my "just wing it!" approach are becoming more and more apparent. Trial and error is not a good way to get clothes to fit.
I put off getting started with this book for quite a while. On my initial skim-through, the directions appeared to be in a different language. O.o
But, once I gathered my materials and took my measurements, things got rolling. Drafting the pattern was simple and nowhere near as mundane as I had feared. I used grocery bags and they worked well.
Though I was tempted to skip ahead, I started on the basic skirt pattern as instructed. I liked the "Laura Skirt" variation, which added a ruffle and a yoke.
I made my skirt in gray wool, with a bit of cotton print for facing. I did not make a muslin first

..but I will in the future. Hopefully. The book strongly suggests doing so, but it goes against my just wingin' it philosophy, so I'm struggling with it.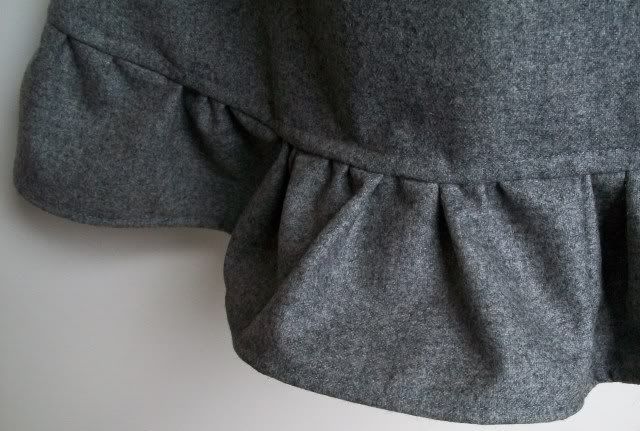 Even though designing a skirt is fairly straightforward, I've learned a lot already..like how to square corners and adjust the measurements for darts.
The inside of the skirt is awfully pretty. It makes me happy.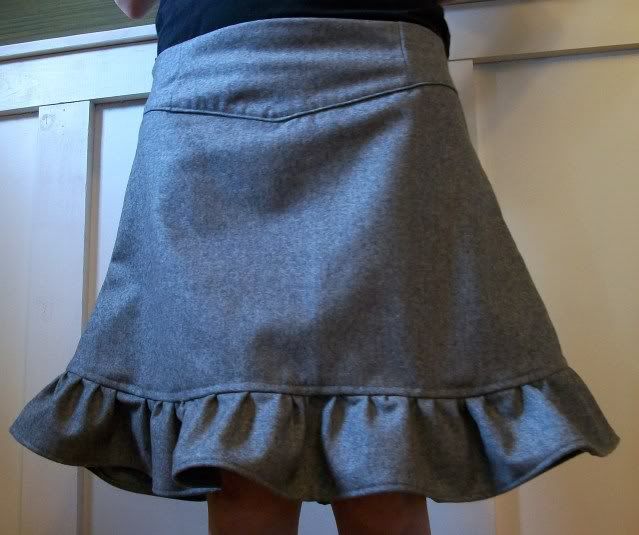 The skirt fits just like I wanted, with a low waist and an impressive amount of flare.
I need a dress form, really really badly. Trying to take pictures of myself is awkward, and the angles are terrible.
Conclusion: All of the pieces came together exactly as they should, and it fits just how I wanted it to. I'm a little surprised (and a lot proud!).
Up next in the book, a tee shirt! 🙂